Canadian Pure

Prediabetes Support+
Choose Your Package
$32.99 Per Bottle
YOU SAVE: $000.00
Add to cart
Advanced All-Natural Diabetic Support Formula for
Optimal Glucose Control
Canadian Pure Prediabetes Support+
Formula is a unique combination of
8 clinically studied ingredients, formulated by experts to help prevent and slow down progress of Diabetes.
By focusing on providing the body with the ideal diabetic support, our formulation provides several health benefits.
Helps support efficient glucose utilization by the body
Helps promote healthy blood glucose and HbA1C levels
Helps reduce free radical damage and fight inflammation
Aids weight loss and improves energy levels
Helps maintain cardiovascular health and circulatory health
Helps support healthy pancreatic functioning
Canadian Pure
Prediabetes Support+ Formula
A unique formula designed to work for You
Powerful Antioxidant for enhanced protection and metabolic support.
The essential energy producing nutrient.
For heart health vitality,
reduces fatigue and improves endurance.
95%
Standardized Curcuminoids
High Potency Curcumin extract for Powerful Anti-inflammatory action.
High Bioavailability Pepper extract has been clinically proven to significantly increase absorption of key nutrients by 2000 times.* *studied to increase the absorption of Curcumin.
Most bio-absorbable
form of Magnesium & Zinc*
Superior choice of minerals used
All other marketed preparations contain Magnesium Oxide and Zinc Oxide, which is not recommended when used to replenish low levels. *Magnesium Citrate and Zinc Sulphate
THE BENEFITS OF Canadian Pure Prediabetes Support+
The Science
Canadian Pure Prediabetes Support+ Formula applies a multifactorial approach that can help reduce the risk of developing type 2 Diabetes.
Helps improve Insulin Sensitivity
Insulin resistance is a common problem associated with Prediabetes and occurs when the body does not produce enough insulin to help regulate blood glucose levels.
LEARN MORE
Cinnamon helps promote insulin sensitivity and is well known for its ability to help lower blood sugar. Cinnamon also improves Body Mass Index (BMI), fasting insulin, and insulin resistance.
Chromium has been shown to significantly reduce insulin resistance in patients that are at high risk for developing this condition, while magnesium supplements have been shown to improve glucose tolerance.
The combination of magnesium, chromium, and cinnamon found in this supplement work to help improve insulin sensitivity, which can result in more stable blood sugar levels.
Helps improve Blood Sugar
Canadian Pure Prediabetes Support+ Formula can improve glucose utilization by controlling glucose absorption, production, and uptake.
LEARN MORE
It will help stimulate the natural metabolism of glucose, reducing sugar cravings and can promote healthy weight loss. The efficient utilization of glucose can keep you feeling energized and fuel the energy demands of the brain.
Chromium, cinnamon, magnesium, and curcumin are ingredients which have shown in research to help with lowering blood sugar by improving blood-sugar metabolism and increasing insulin efficiency.
Research has proven that curcumin, which is a bioactive compound found in turmeric, when combined with piperine (Piper nigrum extract) significantly improves glucose tolerance in diabetes.
The blend of these medicinal extracts can work synergistically to show beneficial effects on lipids like cholesterol, HDL and LDL.
Helps reduce damage to the Body
Prediabetes and Type 2 Diabetes are associated with several long-term health problems and have been linked with inflammation, nerve damage, and a higher risk of developing cardiovascular disease.
LEARN MORE
Antioxidants help prevent damage to healthy cells which can reduce the risk of developing several diseases.
Both Alpha Lipoic Acid and Coenzyme Q10 (CoQ10) have been included in this supplement for their antioxidative properties.
Alpha Lipoic acid, a natural antioxidant, has insulin-like properties and anti-inflammatory activity. As an antioxidant it can help to manage diabetic complications such as diabetic retinopathy, and diabetic neuropathy.
CoQ10 plays a vital role in the production of energy in the body. CoQ10 helps increase natural CoQ10 levels that can be depleted by age and cholesterol-lowering statin medications.
As a potent antioxidant and essential energy producing coenzyme, CoQ10 can provide protection to cells from harmful oxidation, which can hinder physical activity.
COQ10 is shown to support cardiovascular health and vitality, promoting healthy blood pressure levels.
Additionally, curcumin can help to reduce the nerve damage and has been shown to decrease inflammation which is associated with long-term health problems.
Cinnamon can support healthy cholesterol levels
Helps prevent the progression from Prediabetes to Type 2 Diabetes
One of the primary aims of the Canadian Pure Prediabetes Support+ Formula is to help prevent the progression of Prediabetes to Type 2 Diabetes.
LEARN MORE
Research shows that both magnesium and zinc are vital in preventing Type 2 Diabetes. In addition, both minerals are found at extremely low levels in patients diagnosed with Type 2 Diabetes.
Alpha Lipoic Acid has been shown to aid in weight loss which can help with high blood sugar levels and insulin resistance, to help reduce the risk of developing Type 2 Diabetes.
8 ADVANCED Clinically Proven Nutritional Therapeutic Ingredients
Highly targeted bioactive nutrients in just the right amounts to ensure optimal results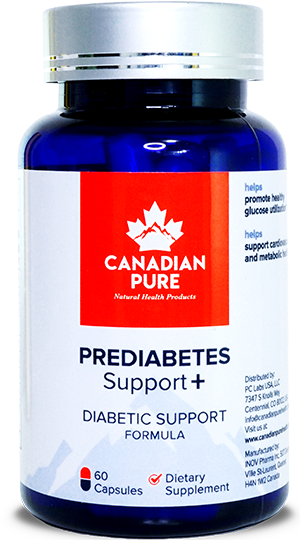 Natural herbal extracts
Cinnamon
Loaded with antioxidants to decrease oxidative stress, improve insulin function, control inflammation and provide protection from Diabetes.
Curcumin
Supports healthy liver and pancreatic function, stabilizes blood sugar levels and helps prevent Prediabetes from progressing to Diabetes.
Piper nigrum
Improves glucose tolerance in Diabetes, and promotes weight loss.
Powerful Antioxidants
Alpha Lipoic acid
Improves glucose utilization, supports kidney, nerve, liver, pancreas and heart health to prevent diabetes-related complications.
Coenzyme Q10 (CoQ)
Effective in reducing blood sugar and improving insulin secretion.
Essential Micronutrients
Chromium
Helps reduce fasting blood glucose, HbA1c, and triglycerides.
Zinc
Corrects zinc deficiency in prediabetics, controls lipid metabolism, helps in insulin production and secretion, thus reducing the risk of developing Type 2 Diabetes.
Magnesium
Lowers blood glucose levels, and provides anti-inflammatory benefits for added Diabetes control.
OTHER Product Specifications
PER CAPSULE
Ingredient
Amount per serving
% DV
Alpha lipoic acid
250 mg
Ψ
Cinnamon Bark Extract
250 mg
Ψ
Curcumin (95% Curcuminoids)
(Rhizomes of curcuma longa)
100 mg
Ψ
Coenzyme Q10 (as Ubiquinol)
60 mg
Ψ
Chromium Picolinate
0.2 mg
571
Magnesium (as Magnesium Citrate)
50 mg
12.5%
Zinc (as Zinc Sulphate)
10 mg
100
BioPerine Black Pepper extract
(Piper nigum)
10 mg
Ψ
Ψ Not established.
Disclaimer - *These statements have not been evaluated by the Food and Drug Administration. This product is not intended to diagnose, treat, cure, or prevent any disease.
Take two capsules daily with food, or as directed by a qualified health care practitioner.
FAQs
Who is at risk for developing Prediabetes?
While an unhealthy lifestyle and being overweight can put you at risk of developing Prediabetes there are also several other factors that can increase your risk. These include; if you are 45 years or older, you have a parent or sibling with type 2 Diabetes, you have ever had gestational Diabetes or if you don't take part in regular exercise. Regular exercise includes being physically active at least three times a week.
Many natural supplements have been well-researched in their ability to manage insulin resistance and Prediabetes. It is essential, however, to choose those that have proven ability to do so. Many supplements on the market may contain undesirable compounds, while you can be guaranteed that the Canadian Pure Prediabetes Support+ includes only the best and most important ingredients to help you to improve insulin sensitivity and lower your blood sugar levels.
While natural supplements can help you to improve your health and reverse Prediabetes, they are best used in conjunction with a healthy diet and exercise.
What medications are normally prescribed for Prediabetes and can natural supplements affect how they work?
Trying to naturally reduce your blood sugar levels and control your insulin sensitivity is often recommended as the first line of treatment for Prediabetes. Diet and exercise have been shown to successfully lower the risk of type 2 Diabetes in a number of people. Adding the support that you get from Canadian Pure Prediabetes Support+, for example, may provide just that little bit extra to help you to improve your insulin sensitivity, lower your blood sugar and reduce the damage that high blood sugar causes to your body.
Metformin is the most common medicine used to treat Prediabetes and it works by helping your body to handle insulin, thus lowering your blood sugar. This medication is often a last resort and is prescribed when diet changes and exercise alone have failed to help control blood sugar levels.
It is always best to consult your doctor if you are taking Metformin and want to add natural supplements to your health care regime.
How does Turmeric help lower blood sugar?
Turmeric is well-known for its wide range of medicinal benefits and the use of Turmeric dates back nearly 4,000 years to the Vedic culture in India. This herb not only helps to lower blood sugar, but it also increases glucose metabolism. The active ingredient in Turmeric is curcumin, which is one of the ingredients of Canadian Pure Prediabetes Support+. It is this active form of turmeric that helps to fight high blood sugar levels by decreasing insulin resistance. Research has shown that taking a curcumin supplement daily not only reduces fasting glucose levels in patients suffering from type 2 Diabetes, but also contribute to weight loss.
Can natural supplements replace Diabetes medication?
Medication for Type 2 Diabetes is often only given when changes to your diet and increased exercise have failed to have the desired results. You should never come off of medication without consulting your healthcare provider.
Should I change my diet while taking natural supplements?
While it is not necessary to change your diet while taking these natural supplements, making sure you eat a healthy and well-balanced diet is important for helping to manage Prediabetes and Diabetes in the long term.